Explore our range of unique funeral programs, meticulously crafted to celebrate your loved one's legacy. Customize with meaningful content, cherished photos, and beautiful layouts.
Discover our elegant collection of prayer cards, thoughtfully designed to honor your loved one's memory. Personalize with heartfelt verses, photos, and custom themes.
Browse our selection of timeless guestbooks, designed to capture precious memories and messages from family and friends. Customize for a lasting tribute to your loved one.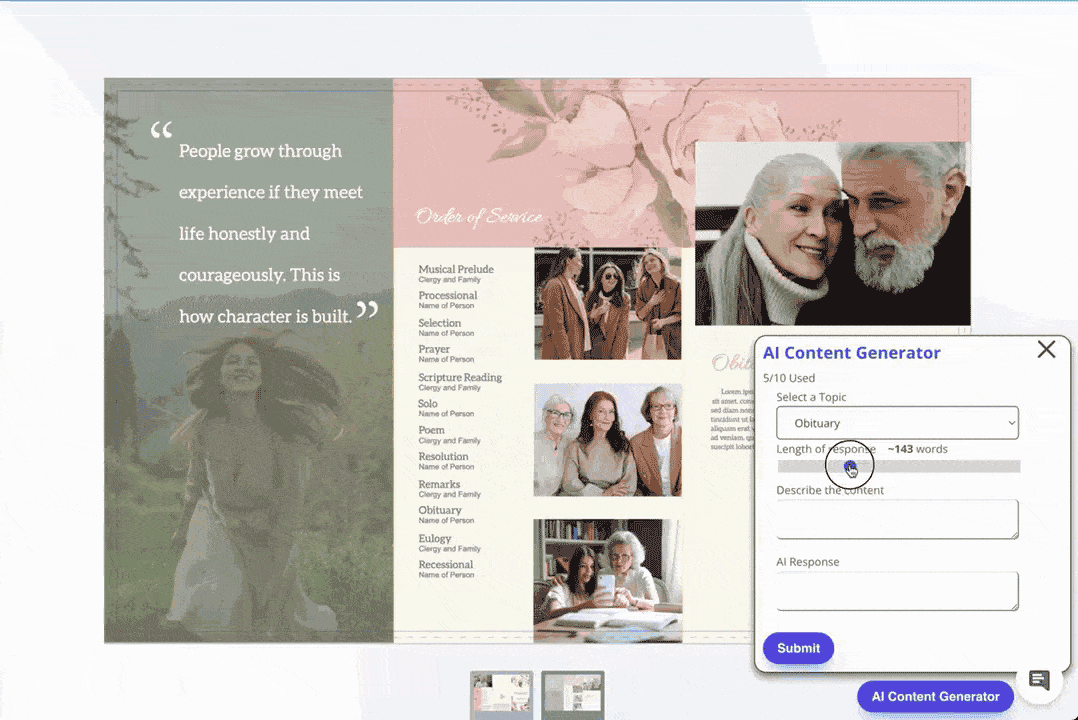 Content Generation
It can be hard to find the right words to say about a loved one. Our AI Content Generation tool makes it easy for you to create genuine messages that reflect your emotions and memories. Effortlessly create a touching tribute to your loved one, sharing your heartfelt emotions with those who share your loss.
Estimated
Shipping Times
At Fast Funeral Printing, we understand how important it is for you to receive your printed materials promptly. That's why we work diligently to process and ship your orders as quickly as possible from our facility in Tempe, Arizona. This graphic shows estimated delivery times for "Ground" shipping.
Testimonials
From our customers
Fast Funeral Printing provided exceptional service during our tough time. Their beautiful prayer cards and guestbooks honored our loved one, and their team's compassion made it all easier.
-Laura H
In our darkest hour, they offered a beacon of light. Their website made finding and personalizing memorial items simple, allowing us to focus on our grief. A heartfelt thank you for their understanding and support.
-Daniel L
During a challenging time, Fast Funeral Printing's easy to use website was a relief. The intuitive design guided me in effortlessly customizing memorial items that truly honored my dad.
-Samantha T